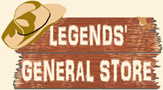 Your cart is currently empty
Canvas & Fine Art Prints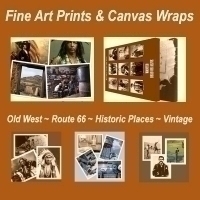 Canvas Wraps & Giclee Fine Art Prints
Our art prints include numerous vintage and current images printed with a fine art Giclee process on paper or canvas at very competitive pricing. Here, you'll find restored vintage photos from the Old West, Native Americans, and original Photo Art. Both canvas and paper are printed using a Giclee high quality print process, utilizing fade-resistant, archival inks, heavily utilized by by artists, galleries, and museums.
Giclee Fine Art Prints - The Giclee print process is of extremely high quality, utilizing fade-resistant, archival inks. Images are printed on a heavyweight satin finish paper that provides rich vibrant color and is easy to view under strong light as it reflects very little. Three sizes available ranging from $12.99 to $19.99.
Canvas Wraps - Also printed utilizing a Giclee print process, our images are gallery-wrapped (meaning the image wraps around a 3/4" stretcher bar) and doesn't need framing. Two sizes available, starting at $41.99.
Made in the USA.
---
See images available by clicking the categories below.