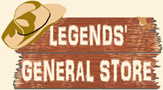 Your cart is currently empty
Custom Wanted - Reward (Personalized) 11x17 Poster
Wanted - Reward (Personalized) 11x17 Poster
Wanted - Reward (Personalized with name).mini poster. Custom designed poster made specifically for Legends' General Store and Legends of America. You cannot find these anywhere else. Printed on semi-glossy, 48 lb paper and measures 11" x 17".
Personalize this wanted Poster with up to 20 characters.
Made right here in Missouri, USA!