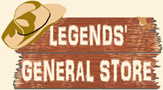 Your cart is currently empty
Gunfighters of the Old West - DVD
SKU:
MV52240
Stock:
Out of Stock
Gunfighters of the Old West

- DVD
An Incredible Historical Overview!
Be transported into the wild and wooly past of the American Wild West! In this fascinating 6documentary collection, you'll find history, lore and biographies of the lives and times of those who populated the Wild West. Gunfighters of the Old West featured all sorts of legendary historical figures from pioneers and scouts to lawmen, outlaws, gangs and gunslingers, to the American cowboy.
Contents:
Old West Cowboys – Parts 1 & 2
This feature enlists professional actors to recreate the characters of the rough and tumble cowboys of the Old West. Genuine still photography, paintings and recreations create an authentic and unique glimpse of the historic time period.
Wild Bill Hickok – Parts 1 & 2
James Butler Hickok (a.k.a. Wild Bill) was the most notorious man in the Wild West. A gunfighter, gambler, Civil War spy, Indian fighter, peace officer, Hickok was said to have killed more than 100 men but the real total was closer to 10. He was widely recognized as the man who won the first classic gunfight on the streets of Springfield, Missouri in 1865. He was shot dead in Deadwood, South Dakota ten years later.
Wyatt Earp – Parts 1 & 2
Wyatt Earp carved his initials deep into Old West lore as a peace officer in Dodge City, Kansas and Tombstone, Arizona. With a pistol in hand, a badge on his chest, and his brothers by his side, Earp delivered a personal brand of frontier justice. But at a legendary place called the OK Corral, his dead aim left his reputation forever tarnished.
Total Runtime 5 Hours, 40 Minutes.
Region 1 DVD
From Mill Creek Entertainment.
Made in the USA
Currently there are no reviews for this product. Share your opinion with others, be the first to write a review.