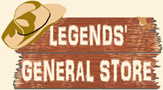 Your cart is currently empty
Legends' Book Package (3 books by us - Signed)
Legends' Book Package (3 books by us - Signed)
Package deal of books (paperback) by Kathy Weiser-Alexander and Legends Of America. Includes 'Old West Lawmen', 'Lynchings, Hanging's & Vigilante Groups', and 'Frontier Slang, Lingo & Phrases'. Save almost 15% off suggested retail. Also, see below for details of our BONUS OFFERs of additional Legends' books with more savings.
Package Includes:
Frontier Slang, Lingo & Phrases by Kathy Weiser-Alexander and Legends of America (Signed)
From the wild and woolly mining camps, to the rampages of the Civil War, to the many cowboys riding on the range, those frontier folks often used terms and phrases that are no longer used in everyday language today. Yet other words and sayings were often specific to certain regions and never used across the states. These terms, as in the past, are still sometimes heard in specific areas, but are "foreign" to the rest of us.
From the pages of period newspapers, books, and century old dictionaries comes the slang, lingo, and phrases of the American Frontier. Even if you're not looking for a definition, you'll get a peek into the charm and character of a historic era.

In addition to the hundreds of words and phrases, readers will also enjoy more than 150 vintage images.
132 pages, Black and White on White Paper, Signed by the Author if ordered here through our General Store.
Published by Legends Of America, 2015.
Lynchings, Hangings & Vigilante Groups by Kathy Weiser and Legends of America (Signed)
Execution by hanging was the most popular legal and extralegal form of putting criminals to death in the United States from its beginning. Brought over to the states from our English ancestors, the method actually originated in Persia (now Iran) about 2,500 years ago. Hanging soon became the method of choice for most countries, as it produced a highly visible deterrent by a simple method.
It also made a good public spectacle, considered important during those times, as viewers looked above them to the gallows or tree to watch the punishment. Legal hangings, practiced by the early American colonists, were readily accepted by the public as a proper form of punishment for serious crimes like theft, rape, and murder. It was also readily practiced for activities that are not considered crimes at all today, such as witchcraft, sodomy and concealing a birth.
Autographed. 8.5 x 5.5 x 0.2 inches, paperback -- 78 pages. Published by Roundabout Publications, 1st edition, January 2014.
Old West Lawmen - By Kathy Weiser, Owner/Editor of Legends of America - Signed
Marshals and sheriffs were in high demand in some of the most lawless settlements as well as the numerous mining camps that dotted the West. Though the vast majority of these lawmen were honorable and heroic figures, ironically, many of them rode both sides of the fence and were known as outlaws as well.

Old West Lawmen is a collection of stories featuring 57 lawmen. Included are more than 70 vintage photographs plus articles about various organizations like the Texas Rangers, U.S. Marshals, and the Pinkerton Detective Agency. This is the first in a series of books to be published on Legends of America's favorite topic -- The Old West. Soon, you'll see outlaws, lynchings, stagecoaches, and bunches more.
Signed by the author. 7"x10" paperback -- 228 pages.
BONUS OFFERS -
Add & Save $ on our Route 66 Postcard Coloring Book.
If you love Route 66, enjoy coloring, and like to share with others, this book is for you! The Route 66 Postcard Coloring Book contains 20 postcards of various places along America's Mother Road, each ready for your own artistic touch. Then after you color, remove each and send as a postcard. Complete with stamp placement on the back, and information on each location. Or, keep your finished work as a reminder of fun times traveling Route 66.
Postcards after removal from book are 5x7". Book is 5x8". Book designed, printed and published in Missouri, U.S.A.
Add and save $ on our Coloring History Coloring Book
Legends of America presents a coloring book with bits of history thrown in for a fun, relaxing learning experience. From the American Revolution to Route 66, short articles accompany coloring pages for all to enjoy. Book includes 20 detailed coloring pages and 18 historic text pages. Designs & Text by Legends' Founder Kathy Weiser-Alexander. Size - 8.5" X 11"
Currently there are no reviews for this product. Share your opinion with others, be the first to write a review.