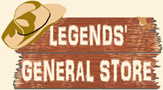 Your cart is currently empty
Barbwire Church 11x17" Poster
Barbwire Church 11x17" Poster
A coil of barbwire hanging on a rugged post sits before a lonely abandoned church in the background. Original photo taken at Arena, North Dakota. Photo and posterized effect by Kathy Weiser-Alexander.
Design is only available through Legends' General Store. Our high quality posters are printed on semi-glossy, 48 lb paper and measure 11" x 17". Made right here in Missouri, USA!
Currently there are no reviews for this product. Share your opinion with others, be the first to write a review.