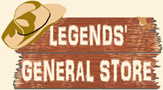 Your cart is currently empty
Frontier Slang, Lingo & Phrases by Legends of America (signed paperback)
Frontier Slang, Lingo & Phrases by Kathy Weiser-Alexander and Legends of America (signed Paperback)

(Click HERE for PDF download version at a lower price)

From the wild and woolly mining camps, to the rampages of the Civil War, to the many cowboys riding on the range, those frontier folks often used terms and phrases that are no longer used in everyday language today. Yet other words and sayings were often specific to certain regions and never used across the states. These terms, as in the past, are still sometimes heard in specific areas, but are "foreign" to the rest of us.
From the pages of period newspapers, books, and century old dictionaries comes the slang, lingo, and phrases of the American Frontier. Even if you're not looking for a definition, you'll get a peek into the charm and character of a historic era.

In addition to the hundreds of words and phrases, readers will also enjoy more than 150 vintage images.
132 pages, Black and White on White Paper, Signed by the Author if ordered here through our General Store.
Published by Legends Of America, 2015.
If we're temporarily out of stock, never fear, you can always order the paperback through Amazon.
OR
Now available in PDF Download! CLICK HERE!!

For download - After purchase, go to "My Account" at top, then look under downloads tab. Link to download (My Account) will also be included in order confirmation email) If you do not create an account, one is automatically created for you when you purchase any download from our General Store.
Currently there are no reviews for this product. Share your opinion with others, be the first to write a review.