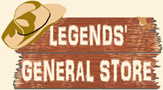 Your cart is currently empty
Barns 'n' Farms Americana Poster
Barns 'n' Farms Americana 11x17 Poster
As part of our Americana series this original piece celebrates our farmers and some of the great barns across the United States with a little whimsy thrown in for fun. Collage is comprised of restored and colorized vintage images, as well as current photos. Composition by Kathy Weiser-Alexander.
Design is custom made for Legends' General Store and cannot be found anywhere else. High quality prints on semi-glossy, 48 lb paper and measures 11" x 17".
Includes Gelett Burgess poem:
I have never seen a Purple Cow,
I never hope to see one;
But I can tell you anyhow,
I'd rather see, than be one.
Also Burma Shave:
Substitutes
Can Do More Harm
Than City Fellers
On A Farm
Burma Shave

Made right here in Missouri, USA!
Currently there are no reviews for this product. Share your opinion with others, be the first to write a review.