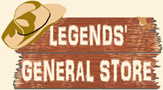 Your cart is currently empty
Outlaws & Gunslingers - DVD
SKU:
MV50739
Stock:
Out of Stock
Outlaws & Gunslingers - DVD
Produced by award-winning production company Centre Communications, this series serves as a follow-up to their smash hit The Great Indian Wars 1540 - 1890. This is the story of the West as it has never been told before...Myth and legend stripped away and the truth revealed by 17 of the nation's top Western authorities. Learn the truth about Billy The Kid, Jesse James, The Sundance Kid and many more!

The year was 1865. The nation's bloodiest conflict, the Civil War, had just ended. It tore the nation apart into North and South, Republican and Democrat. It spawned a new generation of weapons designed only to kill men and it trained a generation of men to kill other men. From this year forward for the next 35 years, the South and the North would continue the war in the Wild
West.

Out of the devastated South rode the most famous of the outlaw gangs, the James and Youngers and the Daltons. From the North rode the most famous of the lawmen Wild Bill Hickok, Wyatt Earp and Bat Masterson. All of these characters would clash in the hills of Missouri...The cow towns of Kansas...And the mining towns of Arizona. Towns such as Northfield, Minnesota; Deadwood, South Dakota and Tombstone, Arizona would blaze into American folklore.
5 part documentary series, Run Time: 150 minutes.

Episodes:

1. The Wild West and the Origins of the Gunfighter
2. The Outlaws - Part 1
3. The Outlaws - Part 2
4. The Lawmen - Part 1
5. The Lawmen - Part 2
From Mill Creek Entertainment.
Made in the USA
Currently there are no reviews for this product. Share your opinion with others, be the first to write a review.