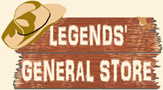 Your cart is currently empty
Ghost Towns (America's Lost World) 2 Disc DVD
SKU:
53344
Stock:
Out of Stock
Ghost Towns (America's Lost World) 2 Disc DVD
Strike It Rich With Our Nations Haunting History!
Unearth America's Lost World! This 5-Part series ventures into the roots of our nations high hopes and hard labors to discover the towns that boomed fast and went bust even faster. Through original footage, interviews with experts and archival materials, this fascinating documentary takes viewers on an amazing journey through our abandoned history. From the deserts of California and mountains of Colorado to the forts, trails and battle sites of war, witness the precious remains of the past that only exist today as shadows of former glories and empty promises.
First time on DVD! Legends of America's own Kathy Weiser-Alexander and Dave Alexander, along with noted Ghost Town author Philip Varney, authors Jeff Barnes, Kenneth Jessen and many more, even an appearance from Bob Boze Bell. Created and Produced by Award-Winning Documentarians, Centre Communications, exclusively for Mill Creek Entertainment.
Episodes:
The Many Ghosts of the West

Forts, Trails and Battle Sites

The Ghosts of New Mexico

Mining Towns of the Rocky Mountains

The Desert Southwest
Total Running time: 5 hr 34 min
Special Note to Viewers: Each segment begins with the same five minute opening.

Update: In March of 2018 a new 1 hr 49 minute special was released featuring portions of interviews with Kathy and Dave of Legends of America. Check out Ghosts in Ghost Towns: Haunting The Wild West", available on Amazon Prime.
We really enjoyed these DVD's! We Learned alot about different place's and just everything in general! Keep up the great work!!! If you ever come thru or around Lexington, Kentucky drop us a line!