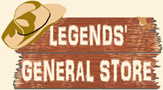 Your cart is currently empty
Grand Canyon DVD
Grand Canyon DVD or Blue Ray
Grand Canyon National Park: An inspiring landscape, The Grand Canyon in Arizona overwhelms our senses through its enormity! Unique combinations of geologic color and erosional forms decorate a canyon that is 277 river miles long, up to 18 miles wide, and a mile deep.
California Condors Reintroduction: Grand Canyon National Park has become an important refuge for California condors and one of the best places on Earth to see them in the wild. One of the rarest birds in the world, the California condor is the largest land bird in North America with a wingspan up to 9 1/2 feet and weighing up to 23 pounds.
Floating the Grand Canyon: Historic footage with river-running guide & outfitter Georgie White Clark (1911–1992), the first woman to row the full length of Marble & Grand Canyons in 1952.
Made in the USA. Running time 50 minutes.
Preview:
Currently there are no reviews for this product. Share your opinion with others, be the first to write a review.