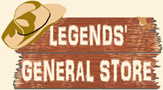 Your cart is currently empty
Old West Lawmen by Kathy Weiser and Legends of America (PDF eBook)
SKU:
bkrp-001pdf
Stock:
11
Old West Lawmen by Kathy Weiser and Legends of America (PDF eBook*) - Marshals and sheriffs were in high demand in some of the most lawless settlements as well as the numerous mining camps that dotted the West. Though the vast majority of these lawmen were honorable and heroic figures, ironically, many of them rode both sides of the fence and were known as outlaws as well.
Old West Lawmen is a collection of stories featuring 57 lawmen. Included are more than 70 vintage photographs plus articles about various organizations like the Texas Rangers, U.S. Marshals, and the Pinkerton Detective Agency.
This is the first in a series of books to be published on Legends' of America's favorite topic -- The Old West. Soon, you'll see outlaws, lynchings, stagecoaches, and bunches more.
*Please Note: A link is provided for you in the order confirmation email you will receive after processing your order. If you do not receive the order confirmation email, please check your spam folder, or contact us. You will have 72 hours to download your purchase.
Available for Kindle through Amazon for only $9.99 (Seperate Shopping Cart) - Click HERE for KINDLE
Print Copies available HERE
Currently there are no reviews for this product. Share your opinion with others, be the first to write a review.