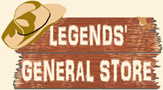 Your cart is currently empty
Wild Bill Hickock Old Time Radio
Wild Bill Hickock Old Time Radio MP3 Collection on DVD - Wild Bill Hickock was a juvenile western adventure loved by millions of kids every week. Wild Bill Hickok was a strong cowboy hero in the classic black and white good vs evil sense. He and his sidekick Jingles rode the west on their horses Buckshot and Joker chasing bad guys and rescuing townfolk.
This collection of Wild Bill Hickock Greats includes 260 different shows and appearances for a total of 106+ hours of listening enjoyment.
This product is a DVD collection of Old Time Radio mp3s. It is designed to be played on your computer DVD drive with standard mp3 software - like Windows media player or its equivalent on Macintosh computers. The mp3 files on the DVDs can be copied onto CDs for play in your car stereo, home entertainment center, etc so you can take your favorite shows with you anywhere you go.
Made in the USA.
Currently there are no reviews for this product. Share your opinion with others, be the first to write a review.