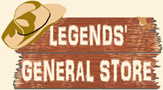 Your cart is currently empty
The Cisco Kid Old Time Radio MP3 Collection on DVD
The Cisco Kid Old Time Radio MP3 Collection on DVD - The Cisco Kid was a film, radio, television and comic book series based on the fictional Western character created by O. Henry in his short story "The Caballero's Way," published in 1907 in the collection Heart of the West. The Cisco Kid came to radio October 2, 1942, with Jackson Beck in the title role and Louis Sorin as Pancho. It remained on air until 1945. It was followed by another Mutual series in 1946, starring Jack Mather and Harry Lang, who continued to head the cast in the syndicated radio series from 1947 to 1956.
This collection of The Cisco Kid Greats includes 189 different shows and appearances for a total of 82+ hours of listening enjoyment.
This product is a DVD collection of Old Time Radio mp3s. It is designed to be played on your computer DVD drive with standard mp3 software - like Windows media player or its equivalent on Macintosh computers. The mp3 files on the DVDs can be copied onto CDs for play in your car stereo, home entertainment center, etc so you can take your favorite shows with you anywhere you go.
Made in the USA.
Currently there are no reviews for this product. Share your opinion with others, be the first to write a review.