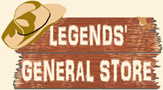 Your cart is currently empty
Abbott & Costello
Abbott and Costello - Get ready to laugh out loud with the most popular comedy duo of all time. William (Bud) Abbott and Lou Costello were an American comedy duo whose work in radio, film and television made them one of the most popular teams in the history of comedy. One of radio's most popular comedy teams, Bud Abbott and Lou Costello began their 30-year partnership in 1929, with Abbott serving as the perfect straight man and Costello as the bumbling, wisecracking man-child. The Abbott and Costello Show mixed comedy with musical interludes, and was best known for their popular and influential routine, "Who's on First?" This rapid-fire word play and comprehension confusion set the preponderant framework for most of their best-known routines. From 1942 to 1947, the duo enjoyed huge success in movies and on radio, where The Abbott & Costello Show was a Thursday night fixture on NBC. The pair broadcast for ABC from 1947 to 1949, where they starred in a weekly evening series as well as a Saturday morning show aimed at their younger fans.
Lou Costello died on March 3, 1959. Bud Abbott died on April 24, 1974.They were inducted into the Radio Hall of Fame in 2005.

This DVD collection of mp3s includes Abbott & Costello Greats includes 94 different shows and appearances for a total of 43+ hours of listening enjoyment. It is designed to be played on your computer DVD drive with standard mp3 software - like Windows media player or its equivalent on Macintosh computers. The mp3 files on the DVDs can be copied onto CDs for play in your car stereo, home entertainment center, etc. so you can take your favorite shows with you anywhere you go.
Made in the USA.
Currently there are no reviews for this product. Share your opinion with others, be the first to write a review.