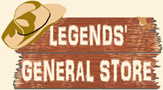 Your cart is currently empty
All of our Custom Postcards, designed exclusively by and for Legends of America, are also available in Wholesale quantities and pricing. To see the specific designs, including information on the backside, please see our Custom Postcards HERE.
Wholesale Pricing:
Pricing for orders of a single design (available for purchase now in our store, just go to Custom Postcards. Some large orders (typically over 100) may require additional processing time. You will be notified if that is the case. If we do not have enough of a single custom design in stock for your order, please contact us.
25+ $0.50 each
50+ $0.35 each
100+ $0.30 each (available online - may need additional processing time)
250+ $0.25 each (not available on-line, needs additional processing time)
Design Services
If you are looking for a postcard for a specific place, city or state, a custom postcard can be designed in many instances. Custom designs are available for popular destinations and require a minimum order of 500 postcards of the same design. Unfortunately, we do not design postcards for personal use or business entities (unless that business is a popular travel destination.) U.S. Only. As there is no design fee, Legends of America retains the copyright to the image.