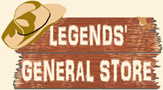 Your cart is currently empty
Western Style Decor (See Product Ideas Available bottom of page)
Legends of America continually fields questions about western décor and, especially, setting the stage for an Old West Saloon. Whether you're looking for permanent decorating ideas, or, just temporary staging for a special event, you'll find ideas and products here that will provide the raw, rustic and tumbleweed atmosphere you're looking for.
Go Western with rough, unfinished wood items. Use antique or "looks like" antique replica glassware for your saloon style bar. Find accents, lamps and fixtures at vintage shops or contemporary retail stores to enhance the Wild West mood.
Western Motifs:

To begin, choose a western style motif to focus on. These might include cowboys, cattle, hunting, deer, bear, moose, fishing, mountains, deserts, Native American, lakes, rivers, gambling, agriculture, and pioneers. Choosing a central theme or a combination of motifs will help you in selecting furnishings and accents.

Colors and Textures:

Color schemes for a western-style room generally come from nature – the browns and grays of wood; green, gold, orange, and brick red of leaves and grasses; the range of blues found in the sky, lakes, and rivers. Choose colors to match your motif(s) – browns, greens, and blues for hunting, fishing; oranges, golds, browns, and reds for cowboys and cattle; get lively with desert and Native American with brighter golds, turquoise, and orange; and with a gambling theme that might run the gambit from one single poker table to a lively and colorful casino. Great accent colors for more neutral base tones might include brick red, terra cotta, forest green, navy, orange, and turquoise.

Western decorating includes vivid and plentiful textures. Include in your designs, fabrics, accents, wall art, and furnishings, items such as logs, bark, twigs, leather, fringe, yarn, suede, Native American style beading, wool, denim, and fur or fake fur.

Furnishings:

Western style furnishings were often large, made of wood, and generally, were very simple, such as Mission style, made of logs, or constructed of weathered wood.

For tables and chairs, don't buy new – mix and match second hand furniture. Old chairs can often be found at garage sales and thrift stores for as little as just a few dollars each. Don't refinish the furniture, but, do make it safe by replacing screws and securing loose or shifting items with wood glue. Cracked leather chairs and ottomans are also good, and because, most believe these are worthless, they can also be purchased at a bargain.

Part of the appeal of a rustic decor is the rough, unfinished look of it. Find instructions and ideas for rustic style do-it-yourself furniture and accessories Here.

Accents:

When thinking about accents, keep in mind the various textures that work with Western style decorating, such as leather, suede, and wool. For floors, woven rugs, fur or fake fur coverings are perfect. Accent with saddle blankets, leather pillows, Indian style throws, pottery, and weathered farm implements. Though its best to keep numerous small objects at a minimum, you can still work them into larger arrangements. These might include pine cones, acorns, leaves into displays, even rocks. Make a display of these items in a large basket, a rusty pail, or an old washtub. Large accents might include antlers, snowshoes, old skis and sleds, rusted farm implements, and old tools. It would be great fun to include wagon wheels, saddles, and saddlebags; but, even when worn out, these can be expensive. Virtually anything that is old, looks old, or has an "it's always been here" look, it will be perfect.


Here's a quick list of items that might be picked up easily at junk stores, yard sales, flea markets, or at grandma's house, or perhaps even your own garage. All should be old or look like they are. Western-style
Spurs

Kitchen tools

Most anything that is rusty metal or iron

Coffee pots (non electric)

Tin Signs and boxes

Wooden crates and boxes

Cowboy hats and boots

Native American style decor

Tools and farm implements

Ragged quilts

Picture frames

Fishing and hunting gear
And, don't forget the Western Style Wall accents - from vintage prints of outlaws to lawmen, saloons, and More, this is the final touch for the perfect effect.
---