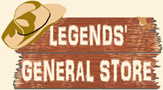 Your cart is currently empty
Effective 12/14/2011-TFN
Here's our policies boiled down (Legends Legal Mumbo Cliff Notes):
A) Refunds-Customer Satisfaction is our top priority. If you received damaged merchandise, the wrong merchandise, or your order was never received, contact us and let us know within 30 days for full refund. Although our policy is to ask for the merchandise to be returned, if you provide proof of damage via photo, etc, this will be waived. The really important thing is to contact us. We want you to be happy.
B) Don't do anything Illegal on our websites or with our merchandise.
C) We store only contact information (name, address, email, phone) when you open an account. We do not store credit card information.
D) You have 15 days to make payment when choosing check/money order, or phone order, unless you have notified us in advance that it may be longer.

Now, here's the full legal mumbo jumbo for those that need to know, or those just killing time.
The use of services from Legends' General Store, our Facebook Fan Page, Twitter and Blog, [hereafter reffered to as "Provider"] constitutes agreement to these terms.
1) Account Setup
Your account with Provider will be setup after receipt of all required information and payment receipt verification (if applicable). Providing false contact information of any kind may result in the termination of your account.
2) Content
All services provided by Provider may only be used for lawful purposes. The laws of the State of Missouri, and the United States of America apply.
The customer agrees to indemnify and hold harmless Provider from any claims resulting from the use of our services.
Use of our services to infringe upon any copyright or trademark is prohibited. This includes but is not limited to unauthorized copying of music, books, photographs, or any other copyrighted work. Any account found to be in violation of anothers copyright will be expeditiously removed, or access to the material disabled. Any account found to be in repeated violation of copyright laws will be suspended and/or terminated.
Provider services, including all related equipment, networks and network devices are provided only for authorized customer use. Provider systems may be monitored for all lawful purposes, including to ensure that use is authorized, for management of the system, to facilitate protection against unauthorized access, and to verify security procedures, survivability, and operational security. During monitoring, information may be examined, recorded, copied and used for authorized purposes. Use of Provider system(s) constitutes consent to monitoring for these purposes.
We reserve the right to refuse service to anyone. Any material that, in our judgment, is obscene, threatening, illegal, or violates our terms of service in any manner may be removed from our servers, or from our social accounts (or otherwise disabled), with or without notice.
3) Payment Information
You agree to supply appropriate payment for the services received from Provider, in advance of the time period during which such services are provided. You agree that until and unless you notify Provider of your desire to cancel any or all services received, those services will be billed.
Cancellations must be done in writing/email via the cancellation process provided. Once we receive your cancellation and have confirmed all necessary information with you via e-mail, we will inform you in writing (typically email) that your account/order has been canceled.
As a client of Provider, it is your responsibility to ensure that your payment information is up to date, and that all invoices are paid on time. Provider provides a fifteen (15) day grace period from the time the invoice is generated and when it must be paid (grace periods may be allowed on a case by case basis). Provider reserves the right to change any charges at anytime (most typically and rare partial refunds, additional shipping requests if needed, etc).
4) Cancellations and Refunds
Provider reserves the right to cancel the account at any time with or without notice. REFUND POLICY - Provider offers a 30 day, no quetsions asked Refund, which requires return of merchandise (unless otherwise noted by Provider). Customer is responsible for shipping and handling costs when returning merchandise for Refund (unless otherwide noted by Provider).
5) Indemnification
Customer agrees that it shall defend, indemnify, save and hold Provider harmless from any and all demands, liabilities, losses, costs and claims, including reasonable attorney's fees asserted against Provider, its agents, its customers, officers and employees, that may arise or result from any service provided or performed or agreed to be performed or any product sold by customer, its agents, employees or assigns. Customer agrees to defend, indemnify and hold harmless Provider against liabilities arising out of; (1) any injury to person or property caused by any products sold or otherwise distributed in connection with Provider; (2) any material supplied by customer infringing or allegedly infringing on the proprietary rights of a third party; (3) copyright infringement and (4) any defective products sold to customers from Provider's server.
6) Arbitration
By using any Provider services, you agree to submit to binding arbitration. If any disputes or claims arise against Provider or its subsidiaries, such disputes will be handled by an arbitrator of Provider's choice. An arbitrator from the American Arbitration Association will be selected. Arbitrators shall be attorneys or retired judges and shall be selected pursuant to the applicable rules. All decisions rendered by the arbitrator will be binding and final. The arbitrator's award is final and binding on all parties. The Federal Arbitration Act, and not any state arbitration law, governs all arbitration under this Arbitration Clause. You are also responsible for any and all costs related to such arbitration.
7) Disclaimer
Provider shall not be responsible for any damages your business and/or Customer may suffer. Provider makes no warranties of any kind, expressed or implied for services we provide. Provider disclaims any warranty or merchantability or fitness for a particular purpose. This includes loss of data resulting from delays, no deliveries, wrong delivery, and any and all service interruptions caused by Provider and its employees.
8) Disclosure to law enforcement
Provider may disclose any subscriber/customer information to law enforcement agencies without further consent or notification to the subscriber/customer upon lawful request from such agencies. We will cooperate fully with law enforcement agencies.
9) Changes to the TOS and Refund Policy
Provider reserves the right to revise its policies at any time without notice.
10) Additional TOS for our Social presence apply via the following hosts

For additional information, questions or concerns, feel free to call or email us. We are avaialbe by phone Mon-Fri 9a-5pm CST with the exception of Holidays at 1-660-723-2550. You may also email us any time at orders@legendsofamerica.com