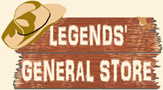 Your cart is currently empty
While we are on the road...Shipping/Stock impacts
Kathy and I are social distancing 'on the road' exploring history, travel destinations, and more! We will be away from the home office until sometime in March or early April.
In the meantime, we've packed some of our more popular items and will be shipping orders 2 or 3 times a week. We have hidden Categories of items we could not bring or ship from our vendor partners.
If you have a question as to whether an item will be delayed, we are checking voicemails and emails mornings and evenings. The best way though is to email (orders@legendsofamerica.com). When placing an order, we will notify you if your items will be delayed, and you will be given the option of a full refund no questions asked.
Kathy and I sincerely appreciate your support for our love of history. We invite you to follow our journey in photos via our Photo Blog, or sign up for our Newsletter.
Sincerely,
Dave Alexander - Shipper Dude