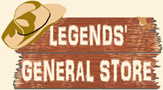 Save 25% on all T-Shirts through January 31. No coupon needed, just add to cart to see savings!
Your cart is currently empty
Contact Us
Our Location
Address:

Legends Of America
28926 Cedar Hill Loop
Warsaw, MO, 65355


Contact Number:

660-723-2550
Contact Form
Please fill out the form below to email your questions and comments to us 24 hours a day. A representative will respond to you via email or phone as soon as possible.