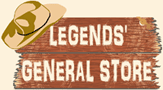 Your cart is currently empty
Great American Bars And Saloons, by Legends Of America Founder Kathy Weiser - Signed/Out of Print
SKU:
bkkw001
Stock:
Out of Stock, Please Check Back Soon
Great American Bars And Saloons by Kathy Weiser-Alexander
Unfortunately, this book is now out of print and they are getting harder to find. We're working on finding more though, and thought we would leave this store item here, because of our own nostalgia. After all it is Kathy's first book :)
Kathy Weiser's first venture into the publishing world takes you into the many watering holes of America's past, particularly the numerous saloons that sprouted up during our nation's Wild West days.This great photographic review displays hundreds of vintage photographs from California to Arizona, the mining camps of Colorado, all the way to New York and its turbulent days of Prohibition.
A coffee-table book with kick. Hardcover, 2006, 224 Pages. Signed by the author!! Dimensions 12.7 x 11.1 x 1 inches at 3.6 pounds.
.
Currently there are no reviews for this product. Share your opinion with others, be the first to write a review.